Music Department
Belle Canto Women's Choir
The Belle Canto women's choir is Harding's newest ensemble.  Beginning in the fall of 2011, the inaugural semester included 60 women, made up of music majors and non majors.  The group performs secular and sacred pieces and will be adding performances in the upcoming years.  Belle Canto rehearses Tuesday and Thursdays at noon.
About our Director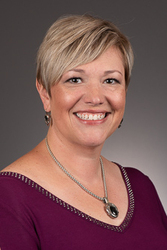 Susan Shirel joined the Harding faculty in 2011. Ms. Shirel completed her undergraduate work at Harding, receiving a Bachelor of Arts degree in Vocal and Instrumental Music Education in 2001.  She received a Master of Arts degree in Music Pedagogy from Texas Woman's University in 2007.
Ms. Shirel is a private instructor of voice as well as an instructor of music education and music appreciation courses.  Before joining Harding University, she was the Director of Choral Activities at Caldwell County High School from 2008-2011.
Auditions
Auditions for Belle Canto are held during the four days before classes begin in August.
Incoming students often choose to attend Harding's Student Impact, which is a program to introduce them to campus life and activities.  Those who are interested in being a part of a choral group should choose the Choral Impact track of Student Impact, which allows them to participate in all of Impact's recreational and informative activities while also introducing them to Harding's vocal groups and providing an opportunity to audition
It is not necessary to prepare anything for the choral audition.  We'll ask you to sing through "My Country, 'tis of Thee" a few times in different keys (music and words will be provided); you'll sing some five-note scales with piano accompaniment; you'll do a little sightreading (you may use solfege syllables or numbers if you like, but no special technique is required); and we'll give you a short tonal memory test in which you'll sing back a few notes we play for you.
After auditions, we'll assign you to the singing group which we feel is best for you—the Chorus, Concert Choir, or the women's choir.
If you have any questions, please contact Ms. Shirel at sshirel@harding.edu