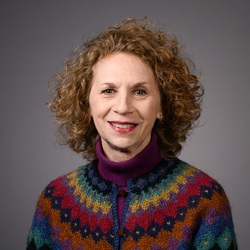 I had almost no connections with Harding and a stable, comfortable life teaching at Mercer in their Pharmacy program. My husband is in essence an Atlanta native, and we had previously chosen not to pursue - and had turned down - opportunities elsewhere. Over and over, my husband and I had repeated the refrain across the years, 'We are not leaving Atlanta. We are not leaving Atlanta. We are not leaving Atlanta...'
Then Harding called.
Our first thought was, 'We are not leaving Atlanta and certainly not to move to some place called Searcy, Arkansas.'
However, it was a tremendous compliment they had asked me to consider this position so we decided to at least do them the courtesy of coming and touring the school.
Once I came here and met the people and administrators at Harding, we were immediately sold on the spirit and friendliness of those at the university. Before we left Searcy my husband and I agreed if they offered me the job, I would take it. I can't easily explain just how that happened, why it happened, or even how happy we both are since becoming Searcy residents.
I'm not one to easily believe in the idea of a still, small voice, and I grapple with the providence of God - what it means and how it happens - on a daily basis, but this is the one time in my life I felt as if I had to positively respond to Harding's call. I can't describe it. It's not something you can put your finger on, but it is why we are here.
I feel honored to be a part of creating a new pharmacy school - where the intersection of Harding's mission - Faith, Learning, and Living - combines with the service and caring aspects of this profession. How does a Christian pharmacist approach and interact with their patients? What part does faith play in professional life? How can we integrate the two so they compliment rather than compete? The tremendous potential for both to grow and flourish is incredible, and without question Harding is most definitely where I want, no, where I need, to be.
You, too, have an opportunity to experience and become a vital part of our team as we strive to fulfill our mission. Will you partner with us as we integrate pharmacy and faith in a healthy, holistic fashion?
Julie Hixson-Wallace, Pharm.D., BCPS
Assistant Provost, Center for Health Sciences
Dean, College of Pharmacy
To make a gift and sponsor/provide any of the items listed.

Invest Your Resources
Medical Library - Because we are a medical entity, we cannot simply purchase a single item and hope it will last us for decades as it might in some disciplines. With ongoing research, medical breakthroughs routinely re-write textbooks. We have budgeted close to $30,000 each year to build our medical library - much of which will be spent on necessary but costly electronic databases. A single medical journal database might be $5,000-10,000. An electronic Journal subscription might cost $1,000; institutions pay a premium because it will be used by many readers. Medical reference books we need to stock for student and faculty use frequently average $100-$150 each. Perhaps you have recent medical texts you wish to donate or would like to help us pay for a new book or an electronic journal subscription. This gift helps an entire department on a daily basis.
I would like to donate a recent medical text or collection of periodicals - please contact us at 501-279-5528 or pharmacy@harding.edu.
Sponsor a reference book for the library -$125
Sponsor two reference books -$250
Sponsor five reference books -$625
Sponsor one month of a medical database -$600
Sponsor two months of a medical database -$1,200
Sponsor one semester of a medical database -$3,000
Sponsor one medical database -$7,500
Sponsor one month of an electronic journal -$80
Sponsor two months of an electronic journal -$160
Sponsor one semester of an electronic journal -$400
Sponsor an electronic journal for one year -$1,000
Sponsor a set of medical textbooks - please contact us for our current list of needed purchases 501-279-5528 or pharmacy@harding.edu.
Electronic Portfolio System - It used to be when students and colleges wished to document completion of projects and curriculum, a paper file was collected and reviewed by faculty and accreditation boards. Today, through our Electronic Portfolio System, we eliminate a great deal of paperwork. This program saves paper and storage costs for the university, preserves all needed files on computer, allows students to turn in assignments and be graded by faculty via computer, and even enables us to keep those same files on hand to be reviewed for accreditation assessments. It is invaluable.  
Sponsor a student for one year -$65
Sponsor two students for one year -$130
Sponsor five students for one year -$325
Sponsor ten students for one year -$650
Sponsor thirty students for one year -$1,950
Sponsor an entire class for one year (sixty students) -$3,900
DIT (Defining Issues Test) - We believe one of the hallmarks of our program at Harding will be the strength of character exhibited from our students and graduates. As part of our desire to be a leader in this we administer DIT on multiple occasions for each student. We want to be absolutely sure we are developing character and the ability to display ethical reasoning skills. Where are we succeeding? What classes are most effective in unlocking these skills? How have the abilities and perspectives of our students changed from when they entered our program? These are critical issues in a field which faces ethical dilemmas almost daily, and we believe this is a more than worthy investment in the future.
Sponsor one student -$50
Sponsor two students -$100
Sponsor five students -$250
Sponsor ten students -$500
Sponsor thirty students -$1,500
Sponsor an entire class -$3,000
Pharmacy Practice Laboratory Supplies - To teach our students, we are in constant need of a wide variety of medical supplies - lancets, glucose meters, alcohol swabs, inhalers, blood test kits, etc. Additionally, we have a compounding laboratory where students learn how to combine materials to form medications. They will be trained in everything from powders to pills to capsules to suppositories to creams applied to the skin; if you can purchase it from a pharmacy our students need to know how to create it. We expect these costs to approach $15,000 annually. Perhaps you are not in a position to donate but work for a supply or pharmaceutical company which might donate materials or sell materials to us at cost.
I work for a company which might be able to donate or supply materials for a reduced rate - please contact us at 501-279-5528 or pharmacy@harding.edu.
Sponsor one month of the compounding laboratory -$1,200
Sponsor two months of the compounding laboratory -$2,400
Sponsor one semester of the compounding laboratory -$6,000
Sponsor an academic year for the compounding laboratory -$15,000
The following equipment will be needed by our faculty in their research laboratory. Most pharmacy students will not have extensive contact with the equipment, but to be an accredited college of pharmacy and attract quality faculty and industry contracts (which lead to opportunities for students and internships) we must eventually purchase these items. Industry contracts not only help the Pharmacy program pay for its own way but also become profitable and channel money back to the Harding Annual Fund on a yearly basis. Thus, a gift in one of these areas not only benefits the College of Pharmacy but potentially the entire campus. If you are interested in sponsoring one of these items or know of one which might be donated, please contact us at 501-279-5528 or pharmacy@harding.edu.
High Performance Liquid Chromatography (HPLC) - These are used in a chemical laboratory application to detect various substances in liquids. If we wanted to find out how much of a particular drug is in a sample, we could use an HPLC. If we were discovering a new drug and had a mixture of chemicals - say from a leaf on a plant - we could look for active compounds which might be similar or perhaps even unique as compared to what we already know. It allows us to isolate the percentages of the different components in a substance and understand the chemical properties of the sample, or even discover the sample could be helpful in supplying a component of a known drug.
Sponsor the High Performance Liquid Chromatography -$75,000
I am aware of one which can be donated or purchased for a reduced price - Please contact us at 501-279-5205 or jahixson@harding.edu
Liquid Chromatography Mass Spectrometer - This is often used in a similar fashion to the HPLC, but with liquids instead of solids. It helps us to identify the components of a compound on a cellular level using light emissions.
Sponsor the Liquid Chromatography Mass Spectrometer -$195,000
I am aware of one which can be donated or purchased for a reduced price - Please contact us at 501-279-5205 or jahixson@harding.edu
Flow Cytometer - This counts the number of different types of cells in a sample. For example, if we were trying to target a particular type of cell - such as a cancer cell or a neurological cell. At Harding, we will be looking mostly at neurological compounds and anti-infective agents (like antibiotics). With the neurological compounds, we are working to understand the brain. Our hope is to make strides in treating scourges like Alzheimer's, depression, etc. Our other area of strong interest in is infectious diseases and their treatment because current classes of antibiotics are increasingly less effective. Research in this area is desperately needed or we might soon discover that yes, even the common cold can kill - and did so for thousands of years prior to the 20th century.
Sponsor a Flow Cytometer -$400,000
I am aware of one which can be donated or purchased for a reduced price - Please contact us at 501-279-5205 or jahixson@harding.edu
Nano ZS Particle Size Analyzer - A Nano ZS particle analyzer measures various qualities of liquid and other drug preparations like thin lotions. Some of these qualities include how big the particles of drug suspended in the liquid are, how the particles are binding with one another, how the particles go into solution, etc. This piece of equipment will be used mainly for research projects the faculty do with industry to formulate new drug products into forms that can be absorbed and used by the body to treat illness or disease. The equipment will also be used to test products students make in their drug compounding courses to be sure their skills are resulting in products that would be usable by patients in a clinical situation.
Sponsor a Nano ZS Particle Size Analyzer -$64,000
I am aware of one which can be donated or purchased for a reduced price - Please contact us at 501-279-5205 or jahixson@harding.edu

Invest in the Community
Harding challenges her students to integrate Faith, Learning, and Living. What better way might we do this than to allow faculty and students to minister to those in need while learning valuable skills for the future? We are currently seeking a means of carrying out our dreams for Searcy and beyond, but the following are three service areas we would love to fill if we were able.
Continuing Education - We hope to do this in a variety of ways, but one of those is offering occasional professional meetings at Harding.  We want to offer these at no cost, but we would have costs incurred on our end with accreditation and speaker fees. This is a small investment considering the good that might be done for pharmacists, students, and potentially the university.
Sponsor a continuing education program -$750
Cholestek - This is a machine which can be used for public health screenings. Why is this important? In a matter of minutes, we can tell someone - who might not be able to afford to pay for a blood test - their cholesterol level. Not only can we provide an intervention for those who need to see a specialist, but we may help prevent problems by recommending a change in lifestyle and eating habits. In this way, students not only gain experience with the public with which they will work in their career, but they give back and serve like Christ.
Sponsor the purchase of a Cholestek -$2,000
Donate a Cholestek - contact us at 501-279-5528 or pharmacy@harding.edu.
Dexa Machine - Increasingly the population in the United States is aging. Large numbers of people, particularly women, are going to be at risk for developing Osteoporosis. This is a disfiguring and potentially life-threatening disease which can be prevented or at least aggressively treated. The Dexa Machine is designed to take an X-Ray of an individual's foot and tell whether or not they are at risk or already have developed Osteoporosis.  The machine is not inexpensive, but considering the treatment costs and suffering of just one undiagnosed patient are well beyond the cost of a Dexa, we consider this an investment in the future for White County and indeed - for all tax payers.
Sponsor the purchase of a Dexa Machine -$3,500
Donate a Dexa Machine - contact us at 501-279-5528 or pharmacy@harding.edu