Music Department
Choral classics, new works, spirituals, opera, folksongs. novelties, contemporary Christian songs—the Harding Chorus explores all areas of the choral art with style and enthusiasm.  This select group of 60 voices is chosen by auditions which are held at the beginning of each school year.  Preference is given to music majors, but membership is open to talented singers in all disciplines.  Rehearsing daily and traveling through this country and abroad, Chorus members develop lifelong friendships, have wonderful musical and cultural experiences, and serve as Harding's ambassadors. The Chorus takes an extended tour each January and shorter trips during the school year in addition to giving a number of concerts on campus and in the Searcy area.  They have often appeared with the Arkansas Symphony Orchestra in the orchestra's Masterworks Series. In March 2014 they joined with the orchestra to present Verdi's Requiem, and they sang Brahms's German Requiem with the ASO in February of 2016.
Ten recordings of the Chorus have been released and are available through the Harding Bookstore or at tour concerts.
The group has performed in 37 countries in such venues as the Town Hall in Brisbane, Australia; the Conservatory of Music in Beijing, China; the Festival Hall in Corby, England; the University Church in Oxford, England; the Stiftskirche in Aschaffenburg, Germany; the Palazzo Vecchio in Florence, Italy; the Chopin monument in Warsaw, Poland; the Beloselsksy-Belozersky Palace in St. Petersburg, Russia; and the Palazzo del Toscano in Catania, Sicily.  In all of their concerts they bring a message of musical excellence and spiritual commitment.  In May and June of 2010 the group traveled for three weeks to South America, giving concerts and working with churches in Rio de Janeiro, Buenos Aires, Viña del Mar, and Santiago.  In 2012 they performed in Eastern Europe, and in May and June of 2014 they sang in Italy, France, Switzerland, Slovakia, and Croatia.
  In May of 2006 the Chorus was awarded the Grand Prix in competition with 14 groups from ten countries in the Mundus Cantat International Choral Festival in Sopot, Poland.

 Other vocal ensembles at Harding include the 100-voice Concert Choir; Belle Canto, a ladies' choir; the Chamber Singers; the Belles and Beaux, a pop music ensemble; and the Good News Singers, a contemporary Christian group.  

 Harding also boasts an outstanding instrumental program, with especially strong marching, concert, and jazz bands.  A number of the Chorus members play in the band or orchestra, and they play major roles in the annual fall musical and Spring Sing.  The music department encourages its students to develop their vocal, instrumental, and keyboard talents through many avenues.
Choral Alumni Scholarship Fund:
There are a very limited number of choral scholarships that may be offered each year to non-majors singing with Harding choral groups.  To apply for this scholarship, please email Dr. Ganus or Dr. Neill.  A demonstration of solo singing and sight-reading will be part of the application process.
About the Director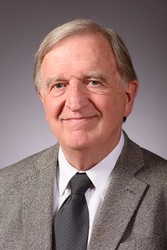 Cliff Ganus III joined the Harding faculty in 1968.  Chair of the department, professor of music, and director of choral activities, he directs the Chorus and the fine arts concert series and teaches music history, conducting, and hymnology.  He is a member of the Music Educators National Conference and the American Choral Directors Association. For 13 years he served as the Southwest Division Chairman of the ACDA Committee on Youth and Student Activities, and he is now the newsletter editor and vice-president for the Arkansas ACDA chapter. He was the founding chairman of the Foothills Arts Council and is a past president of the Arkansas Music Educators Association and of the Searcy Lions Club. In addition, he is active as an adjudicator and clinician. In the springs of 1996 and 2003 Dr. Ganus was presented Distinguished Teacher Awards by the University.
Dr. Ganus completed his undergraduate work at Harding. He received the Master of Music Education degree from the University of North Texas and the Doctor of Musical Arts degree in choral literature and performance from the University of Colorado.
His wife, the former Debbie Lynn of Memphis, received her bachelor's and master's degrees at Harding and her doctorate from Bakke Graduate University.  They have four children:  Sherrill, Bill, Cliff, and Landon.
"Cliff Ganus is a renowned choral conductor/educator with an outstanding reputation. The singers under his direction gain a musical experience that is, for many, life changing. He and his singers bring to the listener a spiritual as well as an emotional dimension." - Eph Ehly
Auditions
Auditions for choral groups are held during the four days before classes begin in August, during Student Impact.
It is not necessary to prepare anything for the choral audition.  We'll ask you to sing through "My Country, 'tis of Thee" a few times in different keys (music and words will be provided); you'll sing some five-note scales with piano accompaniment; you'll do a little sightreading (you may use solfege syllables or numbers if you like, but no special technique is required); and we'll give you a short tonal memory test in which you'll sing back a few notes we play for you.
After auditions, we'll assign you to the singing group that we feel is best for you—the Chorus, Concert Choir, or Belle Canto.
If you have any questions, please contact us at chorus@harding.edu.
Chorus Albums - Listen
These recordings may be ordered through the Harding University Bookstore.
501-279-4351 or e-mail hubookstore@harding.edu and visit the website.
A holy child is born
O come, all ye faithful
It came upon a midnight clear
Hark! the herald angels sing
To us a child of hope is born
The shepherds' carol

Mary had a baby
In the first light
The Coventry Carol
Good Christian men rejoice
The sleep of the child Jesus
The virgin Mary had a baby boy
Riu, Riu, Chiu

Spanish shepherds' song
Over all the land
Joseph, lieber Joseph mein
Hodie Christus natus est
Come Let Us Sing
Come Let us sing to the Lord
Thou Life of Life
Wake, awake
Our Father
Alleluia
Holy Radiant Light
There is no rose of such virtue
Cantate Domino
Lift up your Heads
Mouth Music
Deep River
He's Got The Whole World in His Hands
Ride On, King Jesus
Hold On!
Sweet Home
Hark! I Hear the Harps Eternal
Little Black Train A-Comin'
My God is a Rock
Ezekiel Saw the Wheel
He's Got the Whole World in His Hands
Little Lamb
I Couldn't Hear Nobody Pray
Ain't Got Time to Die
Joshua Fit the Battle of Jericho
Soon One Mornin' Death Come Creepin'
I Got a Key
Great Day 
Let All the World In Ev'ry Corner Sing
Antiphon
Ubi Caritas
Festival Magnificat
Ascendit Deus
Christus Factus Est
O Savior, Throw the Heavens Wide
Sing Ye Praises to Our King
Holy Radiant Light
Singet dem Herren
So I Depart
The Lamb
Benediction
We Bow Down
We Bow Down
We are one in the Spirit
And This is Love
As the Deer Panteth for the Water
I Love You Lord
We Will Glorify the King of Kings
Teach me Lord to Wait
I Want to Know Christ
Sweet, Sweet Spirit
And Can it Be?/Amazing Love
Shine, Jesus, Shine
His Grace Reaches Me
Great is thy Faithfulness
On Bended Knee
In the First Light
Beatitudes
Create in me a Clean Heart
The Joy of the Lord is my Strength
Morning Like This
God Himself is with Us
Instruments of Your Peace
All Creatures of our God and King
Take my Hand, Precious Lord
Where No One Stands Alone
Because He Lives 
Activities 2018-19
(early list - check for updates)
October 3 - Sing at 6:30 pm in Benson Auditorium for Lectureship
November 11 - Sing at 3:00 pm for Christian Academy Choral Festival
November 27 - Winter Concert at 7:00 pm in Administration Auditorium
January 3-13 - Winter Tour to Southeast, including Christian College Choral Festival in Montgomery
January 26 - Sing at 11:30 am for All-State Audition Workshop
February 23/24 - perform Beethoven's Ninth Symphony with Arkansas Symphony Orchestra
April 20 - Spring Concert at 11:00 in Administration Auditorium
Chorus Repertoire
Harding Chorus proposed repertoire 2018-19; early list
Lux aeterna - Elgar, arr. Cameron
Northern Lights - Gjello
Praise God with Song - Schütz
Send Out Thy Light - Balakirev
Song of Triumph - Grotenhuis
City Called Heaven - spiritual, arr. Ganus
How Can I Keep from Singing? - Lowry, arr. Staheli
I Can Tell the World - spiritual, arr. Hogan
Unclouded Day - folk hymn, arr. Kirchner
Witness - spiritual, arr. Halloran
Wayfaring Stranger - spiritual, arr Engelhardt
What Was His Creed? - Malpede
The Heavens' Flock -

Ešenvalds

Take Me to the Water - spiritual, arr. Cherwien
Come by Here - folk, arr. Brown
Norwegian Alleluia - Arnesen
Pictures
Concert in Hildesheim, German (May 2017)
It always rains in London (May 2017)
John Newton's grave - Olney, England (May 2017)
Preparing to sing at St. Helen's Church in Nottingham (May 2017)
Singing for Syrian refugees in Peine, Germany (May 2017)
Selfie action at the Rhine Falls (May 2014)
Ste. Pierre in Geneva (May 2014)
After the concert in Odessa, Ukraine (May 2012)
Newspaper photo and article from Debrecen, Hungary (May 2012)
We sang in a Baroque Jesuit church in Bratislava and were instructed not to sing our folk songs during the concert. So we sang for about 70 minutes, with nothing but folk songs and novelties left in our repertoire, and left the building. The audience followed us outside, where we sang for another 25 minutes. It was a great evening! (May 2012)
Dinner cruise on the Danube in Budapest (May 2012)
On Sugar Loaf in Rio de Janeiro (2010)
Singing at ICANA Hall in Buenos Aires (2010)
Performing at the University of Viña del Mar in Chile (2010)
At the Lincoln Memorial, January 2010
The Chorus at the Forbidden City in Beijing, May 2008
Singing at a university in Wuhan, May 2008
Chorus singing in the Fourvière Basilica in Lyon, France (2006)
 Chorus outside the Fourvière Basilica in Lyon, France (2006)
Chorus singing in St. George Concert Hall in Bristol, England (2006)
Concert in the Aberdeen Music Hall in Scotland, with over 800 in the audience (2006)
Chorus singing at Opera Lesna in Sopot, Poland, upon receiving the Grand Prix award in the 2006 Mundus Cantat International Choral Festival
The Chorus at the Great Wall of China - May 2004
Singing at the University of Qingdao - May 2004
People waiting to hear the Chorus Concert, Wuhan, China - May 2004
Singing at a leprosarium in Chiang Mai, Thailand -May 2004
Save
Here's what others are saying about the Harding Chorus
 "The repertoire of the Harding [Chorus]...is extraordinarily diversified and presented in a fashion that no British choir would dare attempt.... This splendidly extrovert and sonorous choir treat every piece as though it were its finale." - the Glasgow Herald

 "Hosanna in Excelsis... immediately established the top-flight credentials of the young singers....Tenebrae Factae Sunt... displayed a refinement of phrase and line which was thoroughly sophisticated and entirely admirable." - the Aberdeen Press and Journal

 "From their opening... the choir's secure intonation, attention to detail and a huge range of shading emotion and pace were apparent." - the Otago Daily Times (Dunedin, New Zealand)