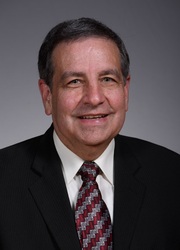 When I was a student at Harding, I was a math and Bible major. Obviously conflicted about where my future might lie, I wasn't sure where I would go or what I might do with my training. That's when Dr. Dean Priest suggested I consider graduate school and help Harding start a computer sciences degree. Sensing the possibilities for ministry, I jumped at the opportunity.  After first a master's degree and later a PhD, I have returned to Harding as my calling if you will – to a place where I can use both my love for computers and my love for the Lord.
Really, our entire department shares this same vision, this same goal.  We believe the students entering our classrooms are at a critical stage in their lives.  They are forming their future academically, socially, and spiritually.  We want to help them in this process and develop them as a whole person. 
Subjects such as History, English, or even sciences like Biology naturally lend themselves to the integration of faith and learning.  Computer Science – well, I've never seen a computer mentioned in the Bible either positively or negatively. So, we go out of our way to integrate the two. We begin classes with prayers whenever possible, and our faculty lead devotionals with the goal of supporting and loving students so they discover their gifts and use them for a lifetime of service – wherever they may be placed.
How committed are we?
The teachers and professors at Harding are here because we view these students as a ministry; it isn't the pay or the benefits that keep us but the opportunity to serve. Almost every one of the faculty in our department take a drastic pay cut on the order of 50% or more by leaving industry to work here. Were they to return to industry, it is not unrealistic for them to double and frequently triple their current salary. Do not misunderstand; we are not unhappy with our compensation. I share this to show you we are committed to a ministry – committed to you (as a student), to your sons, your daughters, and your grandchildren.
Would you join us in that commitment? We are willing to make sacrifices for the students; will you take our hand and walk with us?
To make a gift and sponsor/provide any of the items listed, click here.
Invest Your Resources
ABET – Our faculty must increase their level of travel for professional and accreditation purposes. We make the most of nearby conferences and stay current with aggressive reading, but the addition of the Engineering Department means accreditation regulations will require us to travel to more national gatherings. One such meeting (for just one faculty member) can easily run $1,500 or more. Obviously, all departments could use help to offset professional development, but ours is not a choice.
Registration - $200
Airfare – $500
Airfare – I have frequent flier miles I would like to donate – please contact us at comp@harding.edu or 501-279-4361.
Lodging - $400
Bison Programming Team – Harding has had an award winning Computer Science program for a quarter of a century. Every year we take between 6 and 9 students to compete in regional competition, and if we make it past the regional level, we are eligible to attend the International competition. There are 120 teams in our division, and the vast majority of these schools dwarf Harding. We are up against schools like Stanford, Illinois, etc. How have we fared? We routinely place first or second and have twice been in the International competition in the last decade. We are as economical as possible when we travel, but obviously there are costs.
Equipment– It goes without saying there will be equipment costs associated with a computer science department. We are able to take care of most of these costs through a technology fee paid by each student, but there are still items which wear out or break down unexpectedly.  Laser printers, portable hard drives, and a host of other items all crop up and eat into our budget. As an example, this past year we purchased 4 laptop computers which can be checked out by students; some of our majors are not as fortunate as others.  They love the computer science field, but it is everything they have to simply make it to school at Harding. They don't have a computer or a laptop of their own. This summer we purchased several iPhones and iPod Touches for faculty so they can learn to program in these emerging technologies and keep students equipped in the future.  Would you consider helping us offset costs such as these?
Sponsor a computer for student or faculty use - $500
Sponsor two computers for student or faculty use - $1,000
Sponsor five computers for student or faculty use -$2,500
Sponsor all computers for student or faculty use - $6,000
Sponsor an emerging technology purchase - $1,000
Donate an emerging technology – Please contact us at comp@harding.edu or 501-279-4361
Senior Dinner – Each year we take an evening to give awards and pat students on the back for their hard work.  They are invited – as well as their spouses and family – to join the faculty in an evening where we share with one another.  Primarily, our purpose on the evening is to tell them we are proud of the young men and women they are becoming.  Every student and faculty member in attendance is given an opportunity to talk to the group.  It allows us to say goodbye, and it also allows us to tell students quite simply, 'We love you with the love of the Lord.'  Right now our faculty members are unable to bring spouses or children because of the cost and restraints on our budget.  It would be wonderful both for the faculty and the students to be able include faculty families.
Purchase dinner for a student and their family - $40

Sponsor dinner for the faculty - $60

Sponsor a faculty and their family - $50

Sponsor two faculty members with their families -$100

Sponsor all faculty with their families -$250

 

Purchase an award for a worthy student -$50
 Senior Showcase – Every year we allow students to show their senior projects.  Typically these are projects they have been working away on for six months or even a year.  They are software, mostly games, and these are entered in team competitions.  We involve many of our former alumni as judges, and we serve refreshments to anyone else who might want to come and watch.  Often, this is a wonderful opportunity for families to see exactly what their child has learned across the span of their Harding experience.  Fellow and even prospective students also attend.  This may seem like a less than educational use of our funds but understand this is both a teaching tool and a way to reward hard work.  Our students first of all need to be encouraged to learn in their classes and put that knowledge to excellent use, and what better means than with a competition.  Also, in our field, there is a constant game of one-upsmanship when it comes to the latest, greatest software.  Pitting one team against another in a safe, Christian environment prepares them for what they will experience in the workforce.
Purchase refreshments $150

Purchase awards for a deserving team $150

 
Software license – Each year we pay Microsoft a fee of $800 to renew our MSDNAA.  This is steep for a department such as ours, but the value of this software is almost beyond measure.  In exchange for the renewal, we are given access to over 100 programs for the use and betterment of our students.  That works out to just $8 per program.
Sponsor 5 programs – $40

Sponsor 10 programs –$80

Sponsor 25 programs – $200

Sponsor the software license – $800
To make a gift and sponsor/provide any of the items listed, click here.
Invest Your Time
Consider becoming a resource – Are you working in industry?   Our students are making a choice which will impact the entire direction of their lives.  They are deciding upon their occupation and contact with someone working in their field would be immensely helpful.  Perhaps you are pleased with your job but would like greater meaning and want to make a contribution toward others – this is a way to do so for literally nothing more than a little bit of your time.  Would you correspond with and be a mentor to a student?  Please contact us at comp@harding.edu or 501-279-4361. 
Volunteer as a Valuable Contact - You don't even need to be a Computer Science graduate to help.  We simply need our alumni to connect our worthy graduates with potential employers.  Many of our graduates are looking for work in Kansas or Ohio or wherever they are from originally, but most of the companies which come to Harding to conduct interviews are regionally based here in the Southeast or are local businesses in Arkansas.  Perhaps you know someone in a computer related field; would you be willing to help us network?  We are not asking you to pull in any favors; our students can stand on their own merits with their resumes and interviews.  We are simply asking for help in locating possible positions and to build relationships with persons of influence in their career field.  If you are interested, please contact us at comp@harding.edu or 501-279-4361.