Information Systems & Technology
Center for Learning with Technology (CLT)
About CLT
The Center for Learning with Technology (CLT) supports Harding University's commitment to developing quality courses, increasing the University's online course catalogs, promoting effective learning and continuous improvement.
Meet our Staff
The Center is staffed primarily by John Mimms and Naomi Valentine. Working alongside the staff at the Center are Keith Cronk, Paula Kirby, Allison Case, and a fluid group of student workers.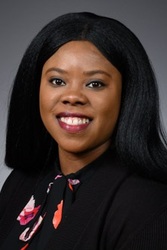 Naomi Valentine, M.B.A.
Sr. Instructional Designer/IS&T
Harding University Box 12264
501-279-5466
Naomi has been in higher education for over 10 years, working with Harding's MBA, Adult and Online Studies programs, and IS&T. Naomi provides assistance in online monitoring, development and instructional design. She is a QM Master Reviewer, Certified Instructional Designer and Peer Reviewer. Naomi received her M.B.A from Harding University in 2014 and is currently working in the Center for Learning with Technology, in the IS&T department. In this role, she assists faculty and staff with their design needs, using Quality Matters standards as a guide. She is also an adjunct Business instructor and teaches online. Naomi's motto is: "strive for excellence in all that you do!"
John Mimms, M.S.E.
Instructional Designer/IS&T
Harding University Box 12264
501-279-5386
John has worked in various roles within the IS&T department for 3 years and is the newest member of the Instructional Design team. John completed his M.S.E. degree from Harding in 2019. He enjoys working alongside others to help develop courses that help to fulfill the University's mission. During course development, he uses the Quality Matters rubric to assist faculty in the design of courses that benefit students across many disciplines.
Goals and Mission
Goals
• Partner with teachers to assist in the effective use of technology in the classroom
• Use established quality design metrics in the design of learning materials
• Research emergent educational technologies for possible implementation
• Improve faculty awareness and adoption of beneficial educational technology tools to improve teaching and learning

Mission
The Center for Learning with Technology (CLT) exists to enhance the learning experience and success of students through the use of appropriate learning technologies.

The Center strives to:
• Keep abreast of current best teaching and learning practices
• Incorporate current teaching and learning best practices into Harding programs
• Undertake ongoing and focused professional development
• Be fully engaged in using technology to its potential
CLT Tutorials
The Center for Learning with Technology offers training on a variety of subjects. Contact us for more information.
Faculty Technology Showcase Events
Faculty Technology Showcase Details
Meet Our Sponsors
Gold Sponsor
Silver Sponsor