Study Abroad
Programs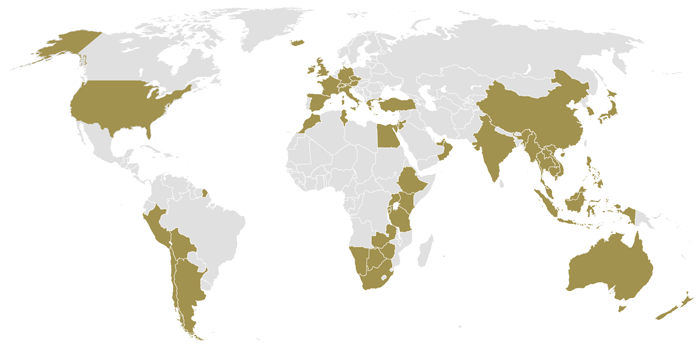 Semester-Long Programs
Travel Before, During and After
The International Programs office makes arrangements for your departure from home to the study abroad campus and your return back home at the end of the program. You will likely depart from the US city of your choice, meet the rest of the group in a major US airport, and then fly as a group to the overseas campus. Exemptions for any student who wishes to arrange his/her own travel must be approved in writing in advance by the director of International Programs.
Some of our programs have independent travel opportunities during and at the conclusion of the semester. Independent travel is a time when students are either given the option or mandated to leave the international campus and travel in groups, with restrictions, for a specified period of time. Currently, HUF is the only program that mandates independent travel during the semester for about 10-14 days (# of days subject to change). Other programs may have optional independent travel during the semester, and all European programs may have an option to travel independently at the conclusion of the semester. The exception to this is HIZ, which has no independent travel options.
Visitors may visit students on campus only at times when they will not disrupt other activities. They are not permitted in the dormitory rooms. Family and friends may not travel with or accompany the group on tours away from campus. Housing for visitors is available on our property at HUG. Contact the International Programs office at international@harding.edu in advance for more information. No visitors may be housed at the other campuses. Even though a program calendar is created for every campus, each calendar is considered tentative and the directors often change the program itinerary with very little (or no) notice. This means that Harding University cannot be responsible for the effect this may have on your friends and/or family who may plan to visit you or who otherwise rely on a version of the calendar for making their plans.
Health Insurance and Immunizations
All students participating in the study abroad programs through Harding University are provided with travel insurance. Even though this insurance provides medical coverage, it is the minimum recommended and we suggest that students purchase a comprehensive travel insurance policy or a student health insurance policy before attending one of the international campuses. Students who currently have major medical insurance as an individual, or as a dependent on a parent's plan, should check with the carrier to determine if you are covered for travel outside the United States.
HIZ students are required to obtain certain vaccinations and will be given that information at the proper time. Students of other programs may be given information about recommended vaccinations by their program director. You should contact your physician and ask about any recommended vaccinations or health recommendations.
Department-Specific Summer Programs
Special Opportunity for incoming Freshmen 
Alumni Tours
Contact Us
Study Abroad is managed by the Office of International Programs
501-279-4529
Mailing address:
Harding University
International Programs
HU
 10838
Searcy AR 72149-5615